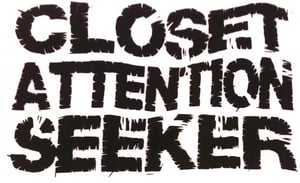 $

65.00
Limited Edition of 80.
Handprinted charcoal ink on white tee. Signed and hand numbered inside collar.
One of my most LOLed and loved designs. Owned by Paul Mac who described it as "Genius".
This design was inspired by that little voice inside me that screams "I want to be a rockstar!" while society just shoves us in the closet, expecting to us to conform. Well this is my way of saying, "I'll do what the hell I want!"